How to add the price tag on catalogue with Flash Converter for Shopping?
Q:Hi, Does Flash Converter for Shopping allow me to add price tag on the flash flip catalogue? Anyway, I just have no idea to make it work. Just show me and tell me what to do.
A:As you know that the catalogue should be included the price in order to make the reader and viewer can know about the price at first. Then if you already finished making the catalogue to PDF file, then will you feel troublesome about making a discount of a good and reduce the price? Then please don't feel bother about this, flash converter for shopping can help you to make it easier to highlight the price and make a new price tag.
Step1: Run Flash Converter for Shopping and then import the PDF file to program to go on;
Step2: Click "Edit Shopping Cart" to start editing the flash flip catalogue and find out the "Price Tag" icon;
Step3: Draw a box on the flash catalogue and then you can keep going to change the hint, price unit and the price even the color of the price tag or enter a url on the price tag;
Step4: Then save the change and exit to check the result after putting a price tag, then you will find out when you move the mouse on the price tag, it will zoom in automatically.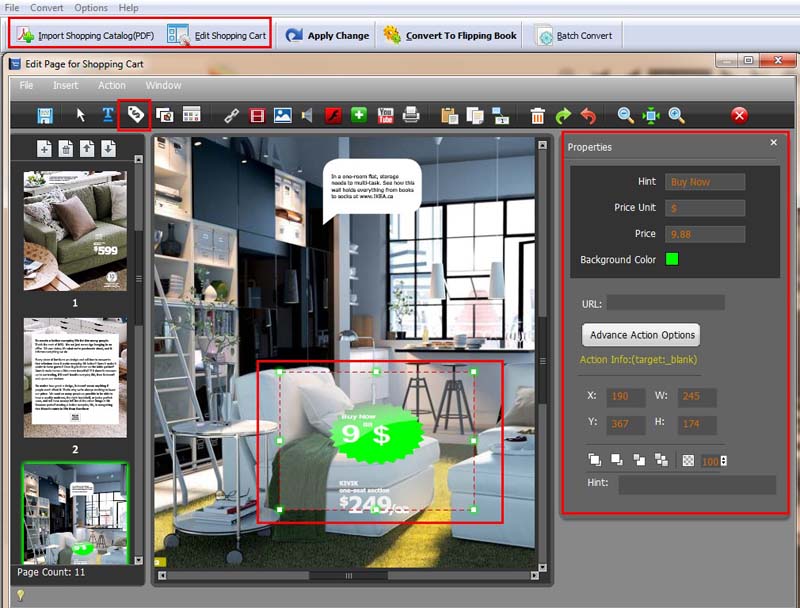 More information about PDF to Flash Converter.
PDF To Flash Converter Pro Mac