Can I change the button font in toolbar?
Q:Hey, I have a try of you flipping book. I converted an awesome flipping book as well. In addition, I would like to make the words in flipping be cutter including the button font. Is it possible to change button font?
A: As you may know, the default of toolbar font is Tohama. We know that we can't please all people, so we also design many options of toolbar font for you to choose. Sometimes we just want to change the normal into a cute one. It makes your flipping book looks more adorable and attractive. Here let's change button font in toolbar successfully.
Step1: open "Design Setting" window, drop down the list find out "button font" option;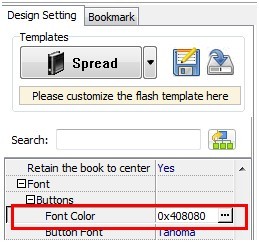 Step2: select a font that you like; let's take "Vijaya" for example to check the effect;
Step3: click "Apply Change" to view the result.
Try more PDF to Flash Converter please click here
PDF to Flash Converter Pro Mac