Can I embed a song as background music of flipping book?
Q:Hey, I do love to listen to some soothing classic music while I am reading. I convert my PDF file into flash flipping book yesterday, and now I need to know does it allow to embed a song into flipping book.
A:Nowadays, people just love to relax themselves with some classic music while we are doing other things.
PDF to Flash Converter not only allows you to customize the background but also can make you embed the song you like as background music. You can relax yourselves from the music while you are reading either. Then just spend a few minutes to embed a song as background music.
Step1: click "Design Setting", find out the "sound" setting from the box;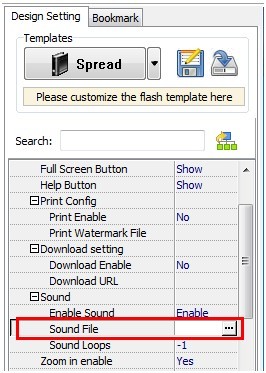 Step2: Select a sound file (MP3 format) that you prepare well from your computer;
Step3: Click "Apply Change" to save and listen to your music.
Warm Tip: if you want to stop the sound, just click button "Sound on" on the toolbar.
Try more PDF to Flash Converter please click here
PDF to Flash Converter Pro Mac