Can I set the imported page rang with office to flash converter?
Q:Hello, there are too many pages in my office document. And now I would like to import some incoherence pages. What should I do? Please offer me a solution.
A: Office to Flash Converter enables users to convert MS office files to flash flipping book which is with 3D virtual effect. It will waste our time to convert all pages to flash flipping book when we just want several pages of the office file. In Office to Flash Converter, there are three choices about importing the PDF file. They are importing all pages, customize the importing page and quick view with importing ten pages first. However, when you are going to import the PDF to office to flash converter, just select the check box based on your need. Here let's start to set the page rang to import the PDF file.
Step1: Run Office to Flash Converter and then click the button "Import office" to start;
Step2: Then come to the "import office" window and then move mouse to the page rang to import;
Step3: select the check box of "Custom rang" and then enter the page number you want to convert to flash flipping book;
Step4: And then click "import" to start import the customize page rang to page flip book.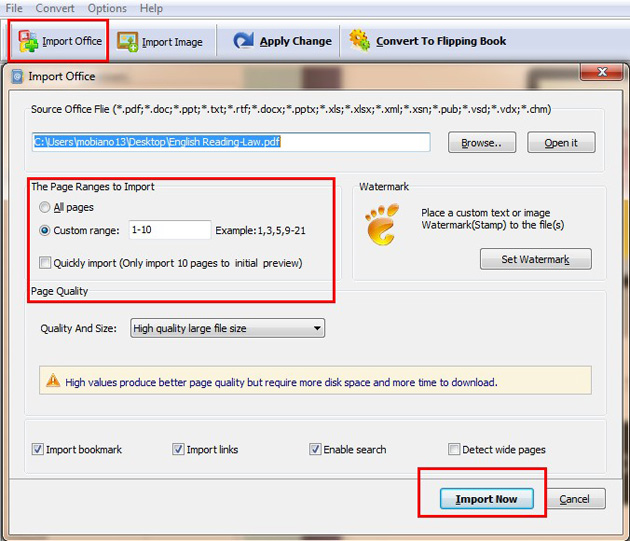 Try PDF to Flash Converter Mac please click here
PDF to Flash Converter Pro Mac