Dose Flash Converter for Shopping allow delete a flip page?
Q: Hey, I edited my flip page with edit page function. And I just would like to know does Flash Converter for Shopping allow me to delete a flip page? That's my question.
A:Flash Converter for Shopping is a great tool to convert PDF catalogue to flash catalogue. On one hand, users can view the PDF file as flash flipping catalogue with 3D virtual effect; on the other hand, the edit function of flash converter for shopping enable users to embellish the flash catalogue with multimedia function buttons. Not only can it make your flash catalogue attractive and impressive but also it also can edit the flip page easily. Anyway, it is not difficult to delete the page you don't want. It is just with several steps.
Step1: Import PDF catalogue first and then click "Edit Shopping Cart" to start edit the flip page;
Step2: Select the page you are going to delete and then move to the button on the top of the page thumbnails;
Step3: click the icon of "garbage can", users is promoted with a dialog box asking whether or not to delete the flip page;
Step4: Click "sure" and then the flip page will be deleted successfully.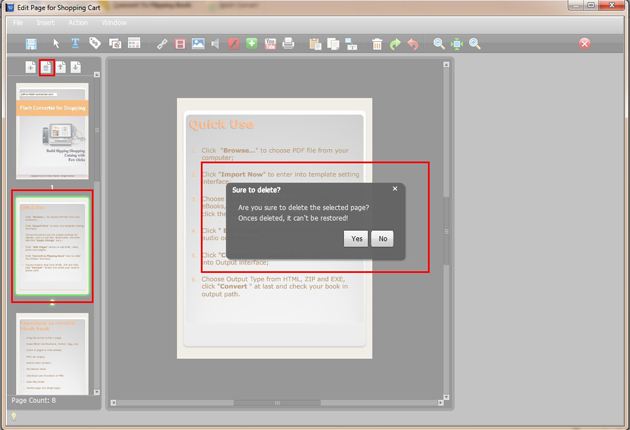 More information about PDF to Flash Converter.
PDF To Flash Converter Pro Mac