How can I change the flipping time with Flash Converter for Shopping?
Q:Hey, I enjoy reading flash flipping PDF catalogue with flash converter for shopping. And now I am trying the auto play function of Flash Converter for Shopping, but I don't know where to change the flipping time.
A:When you are tired of turning the page again and again or you want to do other things while you are reading, indeed auto flip function of PDF Converter for shopping can meet your need. About the flipping time, different people have different reading speed. In this case, Flash Converter for shopping also allows you to change the flipping time based on your reading speed or other elements exactly. Anyway, just follow steps to set a proper flipping time for yourself.
Step1: click "Design Setting" window, find out "Page Shadow" column;
Step2: click the flipping time box in the drop-down list;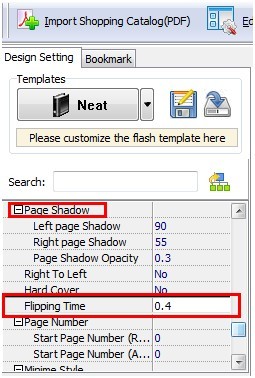 Step3: enter the number you need in the box and then click "Apply Change" to save and view the result;
Warm Tips:
The number you enter in flipping time box, the larger number you enter the longer time to turn page of flash flipping book.
Try more PDF to Flash Converter please click here
PDF to Flash Converter Pro Mac