How can I flip images horizontally with Image to Flash Converter?
Q:Hey, I downloaded the Image to Flash Converter correctly and then I try to import the images. So far so good but I just have problem flipping images horizontally.
A: With Image to Flash Converter, users not only can convert the images to flash flipping album easily but also there are many edit tools and decoration tools in it in order to decorate and enrich the flash flipping album freely. Anyway, in order to embellish our images we may need to flip images horizontally and make it looks a little bit different. Or just would like to adjust the position. However, it is not complicated to flip images horizontally. It just takes several steps to make it work.
Step1: Run image to flash converter first and then import the images;
Step2: select an image and then move the mouse on the image and then the toolbar will show;
Step3: Then click the icon of flip horizontal directly and then you will success in flipping the image horizontally;
Step4: There are two kinds of flip horizontal effect. One is flip horizontal from right to left and the other is up and down.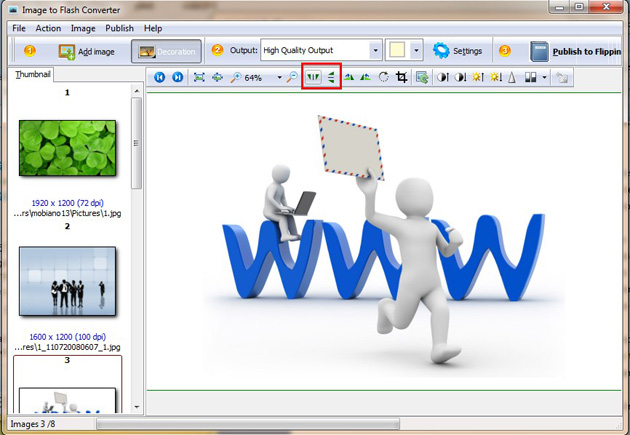 Try Image to Flash Converter please click here
PDF to Flash Converter Pro Mac