How can I make hard cover for flip book with Office to Flash Converter?
Q: Hello, I converted my office file to flash flipping book smoothly. And I would like to make a hard cover for my flash flipping book. Is it possible?
A:With Office to Flash Converter, users can view the office file with a popular and wonderful way. That is view the office file as flash flip book which is with 3D virtual and real page turning effect. Anyway, make a hard cover for the flash flipping book is also a good way to show the wonderful cover of your flash flipping. On one hand, it makes the book look more vivid and visual; on the other hand, it is quite easy to make the hard cover smoothly. Now, just follow our steps to make a wonderful hard cover for you flash flipping book.
Step1: Import Office file to Office to Flash Converter first and then click "Apply Change" to refresh;
Step2: Move to the button list under "Design Setting" and then start to find out "Hard Cover" button under "Background";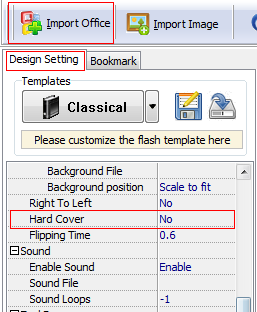 Step3: Select "Yes" from "Hard Cover" and then save the change with clicking "Apply Change" on the toolbar;
Step4: View the hard cover effect of the flash flipping book on the main operation window.
More information about PDF to Flash Converter.
PDF To Flash Converter Pro Mac