How to bookmark a page of my flash flipping book?
Q:Hi, I finished converting one novel with your PDF to flash converter. And I want to know how to bookmark one of my pages. It seems a little bit complicated for me. Anyway, just tell me how to set up a bookmark successfully for me.
A:As we know, it is quite inconvenient for us to read a really long story without bookmarking a page that you read last time. When we read a paper book we can double back the page as a bookmark, but what about a flipping book? Please do worry about that. We design a bookmark function in flip book maker either. Here we are going to bookmark a page as example.

Step1: click "bookmark" window (next to the Design setting button), turn to the page you want to bookmark;
Step2: click adding button, add the page as a bookmark;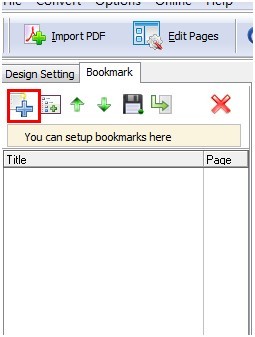 Step3: you are able to rename a title for your bookmark, or if you don't need it anymore, just delete it with
.
Try more PDF to Flash Converter please click here
PDF to Flash Converter Pro Mac