How to convert three images per page with Image to Flash Converter?
Q: Hey, I want to convert several small pictures on one flip page. And I just don't know how to convert three images per page. Would you please tell what I should do?
A:Image to Flash Convert not only can convert images to flash flip brochure but also can embellished with the decoration function. When you are going to convert the small images to flash flip brochure, you may want to make three images to one page. Well, Image to Flash Converter can support you to convert three images to per page effectively. Several images to one page can make the brochure be more beautiful and wonderful. Now, just follow our steps to convert three images per images. It is quite easy but not complicated to make it.
Step1: Add images to Image to Flash Converter and then start to edit with the toolbar;
Step2: Then move to button next to the output quality selection and then select a proper output method such one image per page, two or three images per page or customize the setting;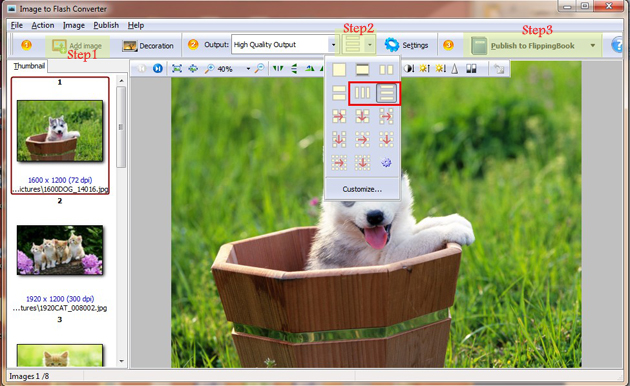 Step3: Select "Three images per page" and then click the button "Publish to Flipping Book" to convert three image per page smoothly.
More information about PDF to Flash Converter.
PDF To Flash Converter Pro Mac