How to crop images with image to flash converter?
Q:Hi, I want to convert my images into flash flip book. But some of my photos seem too large and I don't want a whole picture but the main part of images. So, how to crop the images?
A: Sometimes, we take a photo with large size. And it is too large to fit the windows or just not so convenient to send or share. Perhaps, there are some items you don't want in the photos, in this case you may start to find out a method how to get rid of that part. Anyway, image to flash converter has crop image function for you to crop your image easily before you convert images to flipping book. The button is a little bit small to find. However, it is quite simple to operate successfully. Now, just follow our steps to make it works.
Step1: open image to flash converter users' interface, import images first;
Step2: select one image and the toolbar will show up and then find out "crop image" button in the toolbar;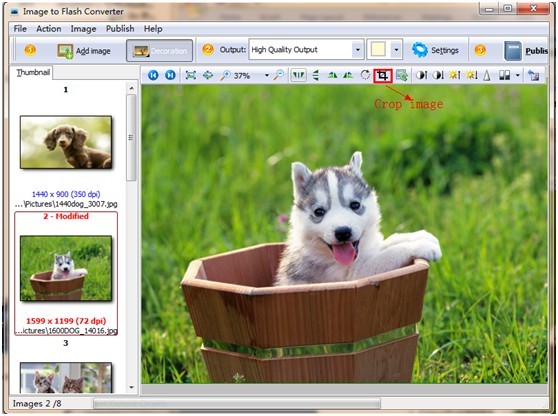 Step3: click "crop image" button and start to crop the size you need.
Kindly Reminder: After cropping the image, there's no need to click any buttons to save. You can view the result directly.
Try more PDF to Flash Converter please click here
PDF to Flash Converter Pro Mac