How to hide the book frame bar of Office to Flash Converter?
Q: Hey, would you please help me get rid of that frame bar? It doesn't look so good with my flash flipping book. Anyway, is possible to hide it? If yes just tell me what to do.
A:Office to Flash Converter can convert office file to flash flipping book quickly and then users can view the common used office file as popular page flip book which is with 3D real page turning effect. As you can see that there are three templates in the Office to Flash Converter. And there is a frame bar on the book. It is for turning the page easily with the frame bar. But if you don't like it at all, of course we can help hide the book frame bar. Here, just follow the steps to hide that frame bar easily.
Step1: Import office file to Office to Flash Converter with "importing office" button;
Step2: and then move to the "Design Setting" button list and then find out the column of "book";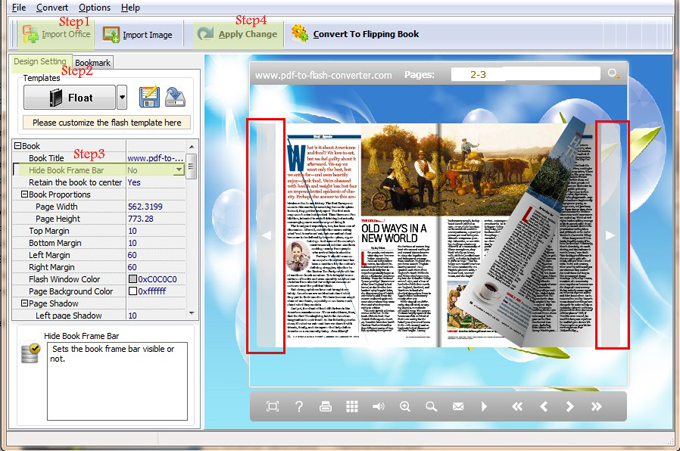 Step3: Select "Hide Book Frame Bar" from the list under "Book" and then choose "Yes" from the box;
Step4: Then click "Apply Change" to view the effect without book frame bar.
More information about PDF to Flash Converter.
PDF To Flash Converter Pro Mac