How to make the flipping book auto play when I open it?
Q:Hello, nice to send you Email. I do appreciate that you put Auto Flip function in flipping book. Now, I do need to make the flipping book Auto play when I open the flipping book. I tried but I failed. There's no other setting in the Auto Flip button. What should I do?
A: About the Auto Flip function, if you do have a try flip book maker, you will feel it is really convenient to read in a long time. You will feel less tired than turn the pages again and again by hand. We do develop other setting about Auto Flip function. It is not shown together with Auto Flip button but on the "Design Setting". Now, just takes you several steps to settle it down.
Step1: open "Design Setting", move your mouse to "Auto Flip" setting.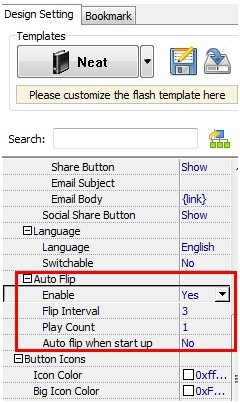 Step2: select "Yes" from Enable box, and select "Yes" from "Auto flip when start up" then click "Apply Change" to save
Step3: also you can change the flip interval and play count as you like.
Try more PDF to Flash Converter please click here
PDF to Flash Converter Pro Mac