How to put my logo in flipping book?
Q:Hello, I'd love to convert my file into flash flipping book with Neat Template. I know this template can my logo with .jpg format in flash flipping book. So, please teach me how to make it.
A: About the logo, as you can see, the Neat template support logo with .jpg format, Float Template allows you type in the words as book title directly. As we know that a book title or book logo plays an important role in summarizing what your book is going to show or tell what story. Anyway, just take my steps to work it out.
Step 1:open "Design Setting" window, drag down the list;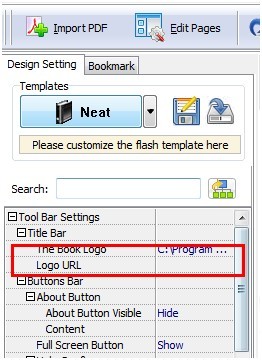 Step2: find out the "title bar" function and select a .jpg logo from your computer (take PDF to Flash Converter for example);
Step3: Then click "Apply Change" to view the effect.
Warm Tips: If you need to put a URL on your logo, just type down the URL address in the box of "Logo URL", then click "Apply Change" to view the effect.
Try more PDF to Flash Converter please click here
PDF to Flash Converter Pro Mac