How to select a template with Flash Converter for Shopping?
Q: Hi, I don't like the current template of my flash flip book in Flash Converter for Shopping. Is it possible to change? Does it complicated to operate?
A:A template plays a quite important role in flipping book. A good template can show up the feature of you flipping book better. What's more, a proper template can drive much attention and make others be impressive about your flash flip book. It is easy to operate and simple to understand. We do believe that a proper template is good for your flash flipping book and make you benefit from it better. Now, let's get start to decorate your flash flip catalogue with Flash Converter for Shopping.
Step1: click "Design Setting" window, find out the template option button;
Step2: click the templates button and then select the one you like from four style templates;
Step3: just click on a theme from the template you like;
Step4: then the theme of a template will be show up in your flipping book.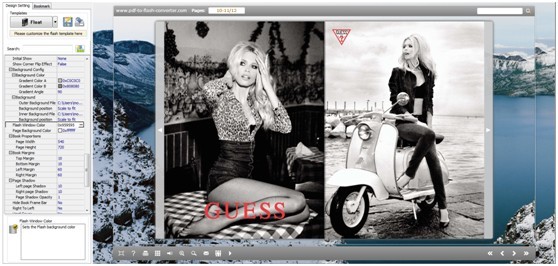 Kindly Reminder: please do not click "apply change" to save the template you change and view the effect.
Try more PDF to Flash Converter please click here
PDF to Flash Converter Pro Mac