How to turn off the sound with PDF to Flash Converter?
Q:Hey, I converted my file into flash flip book. And I have difficulty in turning off the music. I have no idea where sound button is and have no idea how to turn it off.
A: About the sound function of PDF to Flash Converter, the purpose is to make you relax or activate the atmosphere when you are reading. There's no doubt that music is a very effective way to make ourselves relax and calm down. As you know you can insert a song as background music with PDF to Flash Converter, and then of course you can take it off, or turn it on or off. It is not complex to settle down. Let me show you the steps to turn off the sound.
Step1: click "design setting" to find out "sound" function column;
Step2: select "Enable" from "Enable Sound" box;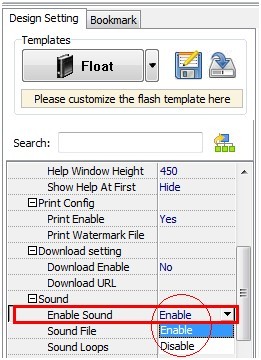 Step3: then sound button will be shown in the toolbar;
Step4: move your mouse to the sound button, if it shows "sound on" then you need to click it again until it shows "sound off".
Warm Tips: please do remember to click "Apply Change" to make the button show in the toolbar. It is very important.
Try more PDF to Flash Converter please click here
PDF to Flash Converter Pro Mac