How to use the social share function of PDF to Flash Converter?
Q:Hi, I saw there is a social share button on the toolbar of flash book. And when I click the button, it seems it can't work. So, would you please tell me how to use this function.
A: About social share button of PDF to Flash Converter, it provides an easy way to share your flipping book to many social share website. As we know, if we do want to share something interesting or wonderful with others if you send them with Email, it is quite a heavy job for us. And then if you share them or link online, others can view the wonderful html easily. On one hand, it can be share online with your friends easily; on the other hand, it can be worked with quite simple operation.
Step1: Upload all output files of flipping book to your website or server;
Step2: Then open the online HTML and then click the social share buttons list;
Step3: Copy the link and select a website you would like to share your PDF to flash flipping book;
Step4: Then it will jump to the log in website of social share website, and then just write down some words and share the link to your friends.
Step5: Please do remember just the online flipping book can social share successfully.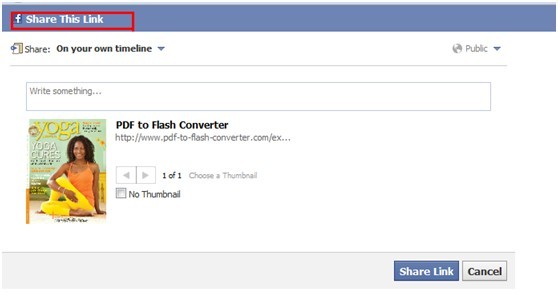 Try PDF to Flash Converter please click here
PDF to Flash Converter Pro Mac