May I change the color of window font?
Q:Hi, I change a background and adjust the flash window color. But the window font color seems not so pretty. It is discordant. Please tell me how to change it successfully?
A:About the font color, the default one is grey or black color. It can match much color than any other colors. Of course, when you adjust some shinning color or change a wonderful background. Of course it will seem wired. Based on this situation, we design a function for you to adjust your window font color.
Step1: open "Design Setting" window, find out "buttons";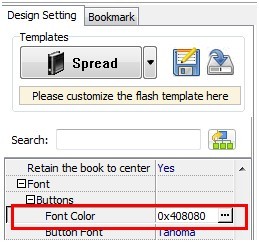 Step2: find out "Font color" below the "button" and click the button to choose a proper color;
Step3: click "Apply Change" to save your changes.
Try more PDF to Flash Converter please click here
PDF to Flash Converter Pro Mac