May I make the social share button show with Flash Converter for Shopping?
Q:Hi, I do love to make flash flip catalogue with Flash Converter for Shopping. And now I got a problem to share my flash catalogue. Because I can't find the social share button anywhere. Can you make it show? Please help.
A: As we know that Flash Converter for Shopping is quite a convenient tool to convert your PDF catalogue into flash flip book. If you make it for business, of course you should make more people pay more attention to your flash flip catalogue. In this case, a social share function plays a much more important role in advising your flash flip catalogue. However, you just need to click several buttons, and then the social share button will show up exactly. Now let's begin to settle down this problem and then share your flash catalogue smoothly.
Step1: click "design setting" window, move mouse to "share" column;
Step2: find out the "social share button" in the list;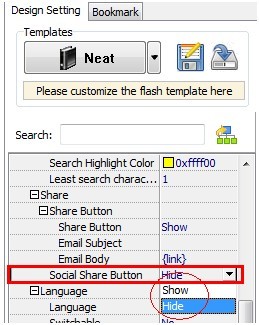 Step3: select "show" from the choice box; If you want to hide the button just click "hide";
Step4: click "Apply Change", and then check the social share button in the toolbar of interface.
Try more PDF to Flash Converter please click here
PDF to Flash Converter Pro Mac