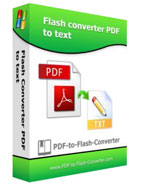 FREE
For Windows 7, Vista, XP

Flash Converter Free PDF to Text
Give you 100% freeware to convert all of PDFs to Texts!
100% freeware without any conversion fee;
Standalone software without third party support;
Easy to use software without any coding trick;
Flexible convert mode for user choice;
Convert multiple PDFs to Texts at one time;
Prefect running on win XP/Vista/7 platform.
Choose Flash Converter Free PDF to Text, you can benefit a lot!


Download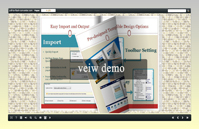 Flash Player 10.0+
Why Use?
Features
Screenshots
How It Works
Flash Converter Free PDF to Text is total freeware to convert all you plain PDF files into the text format documents and free running on any computer device beyond any third party software supports! This Totally Free software provides Batch Convert, Hot Directory modes and Command Line Mode for you to convert large quantities of PDF files on the fly and turning those PDF documents to Text file(s). Easy-to-use software suit for all levels user to creates flash book from PDF without any programming knowledge, coding skill. Just three simple steps: Choose Convert mode -> Load PDF file(s) -> convert to Text file(s), then publish it for online share with your friends, company partners, clients in Facebook, Twitter, Myspace, Google, etc.
Totally Free Converter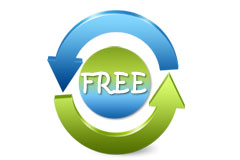 PDF to Text is totally free software for you to convert Adobe PDF files to animated Text file(s). You can directly download the full version to use without registering;
It's standalone software, convert PDF to Text file(s) without third party applications support;
Later upgrade versions freely forever, unlimited PDF files convert.
Easy to convert
Convert PDF files to Text file(s) within three simples. Import, choose convert mode, output;
Convert without any program knowledge, coding skill;
Thousands of PDF files can convert to Text at once with few mouse click;
Automatic load layout, content and hyperlink from original documents.
Flexible convert mode choose
Batch convert mode: batch convert Adobe PDF to Text file(s);
Hot Directories convert mode: running as background program, when someone copy the PDF files, it will directly converted to flash book and sent to an output directory;
Command line convert mode: Use CMD dialog box to convert PDF to Text file(s).