PDF to Flash Converter Themes For Color Pencil
Colorful templates are provided to make wonderful flash flipping book. It is able to save much time to convert your file into impressed flah book and it is free to download.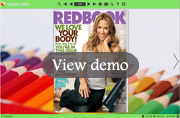 Flash Player 10.0+
Make fantastic Flash Book with Color Pencil themes
Color Pencil shows you a wonderful land about color and pencil. Color pencil is cool to paint the world as you like. The little children paint their world with color pencil. And the adults show a world which has happiness and sadness even pressure. Here let's begin to talk about color pencil themes today. As you can see that the three pictures are about color pencil. They are looking the same but still have some difference. The most obvious difference is the way to putting down the color pencil. Different way shows different beauty of the color pencil for us. Color pencil seems common in our daily life. Do you find out the beauty of the color pencil before you see this theme? In other words, we should take active in finding and searching the beauty in our daily. Then we won't feel so terrible and it is good to relax yourselves in some way. No matter what just download the color pencil themes to enjoy your flash flipping book.
To use Themes & Template, you must install PDF To Flash Converter frist!
You can also reference to Order FAQs for more details about purchase.
Color Pencil Themes Screenshots