PDF to Flash Converter Themes For Snowing Day
Pure templates are provided to make wonderful flash flipping book. It is able to save much time to convert your file into impressed flah book and it is free to download.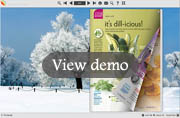 Flash Player 10.0+
Make fantastic Flash Book with Snowing Day themes
Here we are going to show you three snowing day pictures to remind you that it is winter now. Then in snowing day themes, you will see something fresh and novelty pictures. As you can see the three pictures are about trees. In the snowing day, the trees are covered with the snow. It seems the world is white and pure. And the trees which are covered by snow are really beautiful and make you feel excited although it is cold outside. Then that is the artistic conception we want to show. Now just download the snowing day themes free and make it earn more impression for your PDF to flash book.
To use Themes & Template, you must install PDF To Flash Converter frist!
You can also reference to Order FAQs for more details about purchase.
Snowing Day Themes Screenshots