PDF To Flash Converter Themes for Obscure Beauty
Obscure Beauty templates are provided to make wonderful flash flipping book.
It is able to save much time to convert your file into impressed flah book and it is free to download.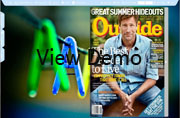 Flash Player 10.0+
Make fantastic Flash Book with Obscure Beauty themes
The famous sculptor Augeuste Rodin said "The world is not the lack of beauty, but the lack of eyes found beauty". Obscured Beauty shows you a obscured world. It is the other kind of beauty which is in our daily life everywhere. Some people just love the gleamingly feeling of obscured beauty. It can not only make us calm down instead of upset but also can make us start to considerate something carefully.
To use Themes & Template, you must install PDF To Flash Converter frist!
You can also reference to Order FAQs for more details about purchase.
Obscure Beauty Themes Screenshots