FREE
For Windows 7, Vista, XP

Free FlashConverter PDF Editor
Edit your PDF file with free flashconverter PDF Editor smoothly!!
Simple to install and use;
Edit PDF file freely;
Insert text box, images inside PDF file smoothly;
Total free software edit pdf ;
High light your PDF file sentences exactly;
Download
Flash Player 10.0+
Why Use?
Screenshots
How It Works
Editing PDF file is always not an easy job for most of us. Now, download and open free flashconverter PDF Editor to have a try edit your PDF file freely. With free flashconverter PDF Editor, you can insert text box on a page and a place. About the Editor function, it allows you to change the size, color set colors and fonts, align, high light a paragraph, sentence or words, insert images, textboxes and more. Furthermore, users can save the PDF you edited as a project and then just open it to edit in next time. Besides, after editing PDF file with free flashconverter PDF Editor, you will face three type options to output your PDF file. One is to store it as a new PDF file, another is to publish to flipping book and export as image (not contain the text you insert or edit).
Completely freeware Flashconverter PDF Editor
Free Fashconverter PDF Editor is free to download from our website. You can use it to edit PDF file freely and without any payment for it. What's more, just open free flashconverter PDF editor and import a PDF file to begin without a registration code.
User-friendly design and operation
The simpler a user interface, the easier it is to use just two menus and a handful of toolbar icon. The home interface of flashconvert PDF Editor is with several main function buttons. And Edit interface has a helpful toolbar on the top. You can find out what you want easily and quickly. With the concise interface and design, users can easily handle the software and operate without any help.
Powerful Edit Page Function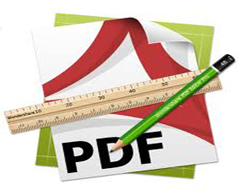 Edit page with inserting textbox, image and link inside PDF file. You just need to click the corresponding insert button and drag it down the page. And then start to select an image or enter text in textbox or link box.
Edit page with drawing line, oval, rectangle and arrow inside PDF file. Sometimes you may need to point sentence or an image out. Or you just would like to show other what you are talking and make others get the point exactly. Obviously, a rectangle or arrow and others will be a good choice to mark.
Edit page with changing size, color, font, style of inserting text and line. Users can change the insert text color, size and font as long as you want. However, the shape of line and color are able to change as well.
Flexible ways to save or output PDF file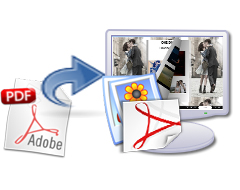 Build to a new PDF file. Users can output it as a new PDF file which contains the text you insert or the image you add.
Publish to Flipping book. It is quite easy to operate. In addition, you change select converted rang to convert PDF file to flipping book with Free Flashconverter PDF Editor.
Export as images. It means free flashconverter PDF Editor can export your PDF file to image format separately. However, the change you edit on the PDF file will not be contained in exported images.
Save as a object. If you don't want to save it as PDF or others, just save it as an object and open it with free flashconverter Editor next time.